Laval University Hotels & Accommodations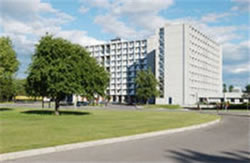 Laval University (Université Laval) is situated approximately 10 minutes drive south west of downtown Quebec City, in the district of Sainte-Foy. The question of where to stay when you are visiting Laval University, or its PEPS stadium and sports complex, really depends on the overall goals of your trip and whether you wish to combine your visit with a stay closer to the amenities and visitor attractions of the old town.
Staying in one of the downtown hotels would leave you with a 10 minute drive to the university, while staying in old Quebec City would only put you around 15 mins away.
However if you would like a place to stay as close as possible to the university while still having the option of easily visiting Quebec City's downtown or historic districts, one of the following hotels near Laval University should meet your needs:
Hotel Universel probably has the best location of all Laval University hotels, being just a few steps away from the northern edge of the campus, on Chemin Sainte-Foy. The Universel has several room types to suit all budgets, from economical to deluxe, and boasts an indoor pool, Scandinavian Spa, Boston Pizza restaurant and bar.
Located right on the university campus, the Residences at Université Laval offer student-style accommodations to students and non-students alike, both for short and extended stays. Regular rooms have shared bathroom and shower facilities, while superior rooms offer a private bathroom, fridge, microwave and internet access. All rooms have access to a common kitchen, TV room and laundry facilities.
Hotels in Ste-Foy
Sainte-Foy hotels offer a good location for Université Laval and , with the following properties being some of the most conveniently situated, lying between 5 and 10 minutes drive away:
The Alt Hotel Quebec offers contemporary accommodation on avenue Germain des Prés in Ste-Foy. Their chic rooms come with all the latest amenities, including free WiFi and free parking.
Hôtel Classique lies on Boulevard Laurier, near the university, and almost next door to Quebec City's largest shopping mall, Laurier Quebec. There are several types of rooms and suites on offer, as well as an indoor pool, free WiFi, free local calls and two restaurants.
Another Sainte-Foy hotel, the Lindbergh is also approximately 5 mins from UL and just a short walk from Laurier Quebec shopping mall. With a wide range of rooms on offer including some with kitchenette or jacuzzi and fireplace, this property features free continental breakfast, an outdoor pool plus free parking.
Slightly further along Boulevard Laurier, the Hotel Quartier is a designer hotel near Laval University with 3 types of stylish rooms and suites to choose from. Amenities include free continental breakfast, indoor pool, high speed internet, and free parking.
The four star Clarion Hotel in Sainte-Foy also makes a good base for visiting UL and features an indoor pool, sauna, exercise room, restaurant, coffee shop, free internet, free parking, as well as a range of business amenities.
Bed & Breakfasts
Two bed and breakfasts with similar locations within walking distance of Laval University are B&B La Bedondaine and B&B Le Soleil Nordique, each of which lie around 1.5km away.
Auberge Maison Roy is another quaint bed and breakfast inn located slightly further away, approx 5 mins drive east of Laval (ie towards downtown), and offers affordable rates and free parking.
Best of Both Worlds?
If you are undecided whether to stay near UL or downtown, why not stay half way between the two? L'Arvidienne Couette et Café lies on Grande Allee Ouest, approximately 10 minutes from the university and 5 minutes from downtown, and is particularly convenient for the Plains of Abraham and the Museum of Fine Arts. The rooms at this beautiful B&B are inspired by the impressionist artists Degas, Monet and Van Gogh.