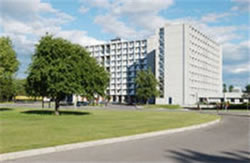 Laval University (Université Laval) is situated approximately 10 minutes drive south west of downtown Quebec City, in the district of Sainte-Foy. The question of where to stay when you are visiting Laval University, or its PEPS stadium and sports complex, really depends on the overall goals of your trip and whether you wish to combine your visit with a stay closer to the amenities and visitor attractions of the old town.
Staying in one of the downtown hotels would leave you with a 10 minute drive to the university, while staying in old Quebec City would only put you around 15 mins away.
However if you would like a place to stay as close as possible to the university while still having the option of easily visiting Quebec City's downtown or historic districts, one of the following hotels near Laval University should meet your needs:
Hotel Universel probably has the best location of all Laval University hotels, being just a few steps away from the northern edge of the campus, on Chemin Sainte-Foy. The Universel has several room types to suit all budgets, from economical to deluxe, and boasts an indoor pool, Scandinavian Spa, Boston Pizza restaurant and bar.
Located right on the university campus, the Residences at Université Laval offer student-style accommodations to students and non-students alike, both for short and extended stays. Regular rooms have shared bathroom and shower facilities, while superior rooms offer a private bathroom, fridge, microwave and internet access. All rooms have access to a common kitchen, TV room and laundry facilities.
Hotels in Ste-Foy
Sainte-Foy hotels offer a good location for Université Laval and , with the following properties being some of the most conveniently situated, lying between 5 and 10 minutes drive away:
The Alt Hotel Quebec offers contemporary accommodation on avenue Germain des Prés in Ste-Foy. Their chic rooms come with all the latest amenities, including free WiFi and free parking.
Hôtel Classique lies on Boulevard Laurier, near the university, and almost next door to Quebec City's largest shopping mall, Laurier Quebec. There are several types of rooms and suites on offer, as well as an indoor pool, free WiFi, free local calls and two restaurants.
Another Sainte-Foy hotel, the Lindbergh is also approximately 5 mins from UL and just a short walk from Laurier Quebec shopping mall. With a wide range of rooms on offer including some with kitchenette or jacuzzi and fireplace, this property features free continental breakfast, an outdoor pool plus free parking.
Slightly further along Boulevard Laurier, the Hotel Quartier is a designer hotel near Laval University with 3 types of stylish rooms and suites to choose from. Amenities include free continental breakfast, indoor pool, high speed internet, and free parking.
The four star Clarion Hotel in Sainte-Foy also makes a good base for visiting UL and features an indoor pool, sauna, exercise room, restaurant, coffee shop, free internet, free parking, as well as a range of business amenities.
Bed & Breakfasts
Two bed and breakfasts with similar locations within walking distance of Laval University are B&B La Bedondaine and B&B Le Soleil Nordique, each of which lie around 1.5km away.
Auberge Maison Roy is another quaint bed and breakfast inn located slightly further away, approx 5 mins drive east of Laval (ie towards downtown), and offers affordable rates and free parking.
Best of Both Worlds?
If you are undecided whether to stay near UL or downtown, why not stay half way between the two? L'Arvidienne Couette et Café lies on Grande Allee Ouest, approximately 10 minutes from the university and 5 minutes from downtown, and is particularly convenient for the Plains of Abraham and the Museum of Fine Arts. The rooms at this beautiful B&B are inspired by the impressionist artists Degas, Monet and Van Gogh.
Taking place July 27 to August 5 2017 Expo Saint-Hyacinthe is Quebec's largest country fair and as well as being an important event for the agricultural industry it is of great interest to locals and tourists alike. Look out for it if you are ever in Greater Montreal during August!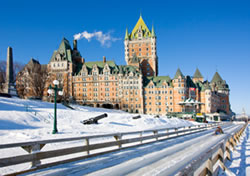 A popular tradition in Quebec City for over 100 years, the Quebec City Winter Carnival takes place from January 26 to February 11 2017. Despite freezing temperatures, visitors flock in their thousands to view the ice palace, canoe race, night parade, snow sculptures, and to take part in dog sled rides, sleigh rides, ice skating and basically all things that encompass winter in Quebec. It's the largest winter carnival in the world and well worth attending!
Quebec Winter Carnival Hotel Packages
Many hotels in Quebec City are offering attractive room only deals throughout the 2017 winter festival.
To view rates and availability for several accommodations at one time, click here and enter your dates of travel.
Several Quebec City hotels are offering special packages throughout the 2017 Winter Carnival, some of which we have featured below.
Best Western Plus City Centre will have a 1 night deal for the Quebec Winter Carnival which includes accommodation, breakfast, and one Carnival effigie with rates from $135.99 per person.
Hotel Concorde is featuring a Winter Carnival Package which includes one night's hotel accommodations with breakfast plus a Winter Carnival 'Effigy' for entrance to the special carnival events. With rates starting at $149 per night, the winter carnival hotel package is valid from January 28 to February 14 2016.
Hotel Chateau Laurier has a special deal for the festival which includes a hotel room for two nights, valet parking, buffet breakfast, plus two carnival passes.
The Hotel Ambassadeur is offering a Quebec Winter Carnival package which includes a room for one night, Winter Carnival effigy plus access to the hotel's pool and spa. Rates start at $77 per person based on double occupancy.
Quebec City Winter Carnival Events
Throughout the 2017 Winter Carnival there will be a whole host of exciting events and activities taking place, with guaranteed fun for all ages.
To get you in the mood, here are some of the highlights from 2015, which will be updated soon:
Bonhomme Carnaval is the famous mascot of the Quebec City winter festival, and at the Loto-Québec Zone in front of the Parliament Building you will find Bonhomme's Ice Palace. Bonhomme's Winterland on the Plains of Abraham is one of the main Carnival venues where you can see dog sledding, ice slides, snow sculpture competitions, Arctic Spa Village, giant table soccer, sugar shack, outdoor BBQ, and sleigh rides. And if you want to go sliding on inner tubes, just make your way to Espace Hydro-Québec.
Some of the main activities take place at the weekends, and on Friday January 30 you won't want to miss the spectacular show for the official opening of the Carnaval. Following that on Saturday January 31 there will be an opportunity to meet Bonhomme himself, take part in a kart race, hockey tournament, learn to snowboard (5-8 year olds) or admire snow sculptures, followed by a live DJ and dancing in the snow! Sunday February 1 sees many of the same activities, so why not pay a visit to the Arctic Spas Village where you can take a hot dip, or warm up at the Soup Shack, or even have a go at bumper cars on ice!
On the evening of Friday February 6 you can enjoy a performance by the children's choir, La Maîtrise, as well as other artists at the Capitole de Québec, or take in the Blues Night at the Pub St-Alexandre. On the morning of Saturday February 7 there will be a pancake breakfast Calgary Stampede style, or you can enjoy a whole host of family fun from 4-8pm at Faubourg St-Jean. That evening sees a special Night Parade in the Arrondissement de Charlesbourg as well as Nuit Boreale celebrations at Palais Montcalm. Both Saturday and Sunday are perfect opportunities to try some of Quebec's best cuisine at the Espace Terroir where local chefs will offer gourmet delights on the banks of the St Lawrence River. The afternoon of Sunday February 8 sees the canoe race finals round out the second weekend of the festival.
Launching the last weekend of the Carnaval will be the SAQ Queen's Ball on the evening of Friday February 13, and the Quebec Symphony Orchestra will also be performing the same evening. During the morning of February 14 you can have souvenir pictures with Bonhomme and in the afternoon be entertained by the brave participants in the Qualinet Snow Bath. A second Carnival parade takes place that evening in the Upper Town, followed by a post parade DJ Party. Sunday February 15 will be the last day of the Quebec City Winter Carnival 2015, and the day starts with Bonhomme's Brunch in the morning, with the closing ceremony taking place at 3.30pm.
For more information visit the official Carnaval de Quebec website at www.carnaval.qc.ca.
What better place to soak up the sights and sounds of Quebec City than your own hotel room balcony? Whether you want to enjoy a glass of wine in the evening while admiring the illuminated buildings of Old Quebec, or have a relaxing breakfast overlooking the St Lawrence River, a Quebec City hotel with a private balcony can offer one of the best travel experiences in Canada. That being said, Quebec City hotels with balconies are in short supply, and the vast majority of hotels in Quebec City do not have rooms with a balcony or terrace. However, for those who plan ahead there are a small number of hotels with balcony rooms that are sure to offer a memorable and unique experience:
Some of the best balcony rooms in Quebec City can be found at the Auberge Saint Antoine where the Luxe Terrace rooms have balconies with excellent views of either the St Lawrence River or the beautiful historic buildings of Old Quebec City. Relaxing on your private balcony eating your room service breakfast in the morning or sipping a glass of wine in the evening, while taking in the magnificent view is truly a memorable experience.
Located close to the Old Port in the Old Town, the Auberge Saint Antoine is a luxury Old Quebec City hotel, which has often been featured in Travel and Leisure Magazine's list of World's Best Hotels.
The terrace rooms are in demand at this hotel, and early reservations are strongly recommended.
Website: www.saint-antoine.com
Located within the walls in the upper section of Old Quebec City, the Hotel Terrasse Dufferin has 4 balcony rooms which overlook the famous Terrasse Dufferin boardwalk as well as having fantastic views of the St Lawrence River, and a good view of the Chateau Frontenac to the side. The balconies are perfect for enjoying a croissant and glass of wine while watching people stroll by and listening to the musicians on Dufferin Terrace. The accommodations at this hotel are comfortable and the rates very reasonable considering the location. The balcony rooms are booked up well in advance and it is advisable to make early reservations, particularly during the summer.
Website: www.terrassedufferin.com
Situated close to the Chateau Frontenac, Hotel Manoir-sur-le-Cap is another option if you are looking for a hotel in Quebec City with balcony rooms. Here there are 2 guest rooms and 1 condo offering a balcony.
Website: www.manoir-sur-le-cap.com
While Auberge aux Deux Lions does not have rooms with a private balcony, guests do have access to a common terrace which is good for people watching and swapping stories with fellow travellers. This inn offers lodging in downtown Quebec City and is within easy walking distance of the Old City.
Website: www.aubergeauxdeuxlions.com
Located right next door to a theatre in Old Quebec, L'Hotel du Capitole has 3 rooms with balconies with views of Old Quebec City and the St Lawrence River. Two of these rooms are from the hotel's regular room category and one is a mini-suite. These balcony rooms can be requested at the time of booking, but cannot be guaranteed, so if you need to be certain of receiving a room with a balcony you should try one the other hotels in Quebec City.
Website: www.lecapitole.com
Hotel Le Priori is a boutique hotel in the Old Port of Quebec which, along with regular hotel accommodation, offers a selection of suites. Two of these suites have a balcony. The balcony in the Diva Suite offers views of Old Quebec, while the balcony in the William Suite has an interior view overlooking the hotel's own restaurant terrace.
Website: www.hotellepriori.com
A different style of balcony can be found at the Hotel Palace Royal where many rooms have an interior balcony in the atrium overlooking the hotel's indoor swimming pool. Although there are no views of Quebec City, the atrium views have their own charm and the balconies offer a place to sit outside your room and enjoy your morning coffee.
Website: www.hotelsjaro.com
It's difficult to imagine a more spectacular setting than Quebec City to celebrate New Year's Eve (Nouvel An) and see in 2014 in style. The warm atmosphere of the historic hotels and quaint inns combined with the superb French influenced cuisine, charming hospitality, and festive events and activities provide all the ingredients you need for a New Year party to remember!
Find a Hotel Room
If you still need to reserve your hotel in Quebec City for the New Year period, you should do so as soon as possible while there are still vacancies, as hotels are likely to fill up at this busy time of year.
To check rates and availability for a range of Quebec City hotels for New Years Eve, click here and enter your dates.
If you are looking for a special New Year hotel package, you may be interested in one of the the New Year's Eve deals below:
New Years at Fairmont Le Chateau Frontenac
Fairmont Le Chateau Frontenac provides a luxurious and magical location for any occasion, and any New Years celebration here is sure to be a memorable one. They are offering a special New Year package to help 2014 get off to the perfect start.
The New Year's Eve Package includes 1 night's accommodation in a Fairmont Room, a welcome reception with canapes, a New Year's Eve Dinner in the Ballroom, champagne at midnight, pool access, plus a sumptuous New Year's Day breakfast buffet. The offer is valid for December 31 2013 arrivals, with rates starting at $999 per night for two people, including gratuities on meals.
Hilton Quebec
The Hilton Quebec has a New Year's Eve Package which includes a room with a panoramic view, 5 course dinner at the Allegro Restaurant, plus New Year's Day brunch on January 1 2014. Rates start at $399 for two adults for one night.
Auberge Sant Antoinne
Auberge Saint Antoinne is featuring a special two night deal which includes a tour of Old Quebec in a horse drawn carriage, countdown, fireworks & dancing at Café-Bar Artefact, brunch on Jan 1st plus breakfast on your second morning. Valid for arrivals on December 30 or 31, rates start at $1680.
Hotel Plaza Quebec
Finally, the Hotel Plaza Quebec is offering a New Year's Eve Party Package which includes a one night stay, entrance to the Ballroom Party with a dinner buffet, entertainment, DJ, and live music, a glass of sparkling wine at midnight, plus New Year's Day brunch. Rates start at $171.99 per person based on double occupancy.
**Below you will see some new year hotel packages from previous years – this information will be updated for December 31 2013 once this year's deals have been finalized**
Le 71 Hotel Cafe
Le 71 Hotel Cafe is offering a 31 Package which includes hotel accommodations for 2 nights, valet parking, cocktail and hors d'oeuvres on New Year's Eve, a five course dinner at Il Matto restaurant, live music, champagne at midnight, breakfast, plus a late checkout at no extra charge. This New Year package is valid for arrivals on either December 30th or December 31st 2010, with rates starting at $679 for two people for two nights.
Auberge Saint Pierre
Auberge Saint Pierre has a Forfait St-Sylvestre (St Sylvestre Package), which includes your room for two nights, cocktail and hors d'oeuvres on New Year's Eve, a la carte breakfast, valet parking, and late checkout. Rates start at $409 for two people for two nights and the package is valid for arrivals on Dec 30 or 31 2010.
In addition to the packages mentioned above, there is accommodation available at many other hotels in Quebec City for the New Year period. To check rates and availability for Quebec City hotels, click here.
*The above rates are subject to applicable taxes, subject to availability, subject to change, and are generally based on double occupancy. To confirm details of the packages, contact the Quebec hotels directly using the links provided.
Located in the Latin Quarter of Quebec City within the gates of Old Quebec and close to the Fairmont Chateau Frontenac, the hotel du Vieux Quebec combines an enviable historical setting with a reasonable price. The standard and superior rooms have either 1 or 2 queen beds, and the king superior room has 1 king bed as well as a seating area, and flat screen TV. All rooms have coffee makers, fridge, free high speed wireless internet and a continental breakfast delivered to your room each morning. Guests also benefit from free movies from the DVD library, free local calls, and hotel lounge with TV and piano. There is also an excellent French bistro next to the lobby.
For more information and for rates and reservations click here.
Tel: 1 800 361 7787
1190 Rue Saint-Jean
Quebec, Quebec, Canada
To see more hotels in Old Quebec, click here.
With an ideal location in the heart of Old Quebec City, the Champlain was renovated in 2006 and offers larger rooms than most Quebec City hotels. Guest rooms are exquisitely decorated in a modern design with warm colours, and include gourmet coffee/tea, fridge and complimentary local calls. A free continental breakfast is provided in a bright, modern breakfast room. There is no hotel restaurant, however the choice of restaurants in the immediate vicinity is superb.
For more information and for reservations click here
Tel: 1 800 567 2106
115 Ste-Anne Street
Quebec City, Quebec, Canada
To see more Old Quebec city hotels, click here.
If you are planning to spend your 2010 Thanksgiving weekend in Quebec City, you should think about making your hotel reservations as soon as possible. Several Quebec City hotels are already sold out for Saturday October 9, and others are likely to fill up before the holiday weekend arrives. To help you decide where to spend Thanksgiving in Quebec City, we checked several Quebec hotel websites and at the time of writing (Sept 23), we found the following hotels to still have vacancies for both Saturday October 9 and Sunday October 10:
The Fairmont Chateau Frontenac has vacancies on October 9 offering a Fairmont Queen room for $349 per night or $379 per night with breakfast. On October 10 it looks like the Fairmont room is not available but they do have a Deluxe Old Quebec king room (with a view of historic Old Quebec architecture) for $379, or $409 with breakfast. To check availability and rates Click Here .
The Champlain Hotel has a minimum 2 night stay for Thanksgiving weekend and its Superior room was available for the nights of October 9 and 10 for $330.75 for the 2 night stay including breakfast. To check availability and rates Click Here .
L'Hôtel du Vieux Québec is offering a 2 night stay in a standard room with one queen bed on October 9 and 10 for $187 per night, including continental breakfast. To check availability and rates Click Here .
Hotel Louisbourg has a regular double room, with one double bed at the affordable rate of $139 for October 9 and $119 for October 10. To check availability and rates Click Here .
If you are looking for a romantic getaway at Thanksgiving, Hotel Le Clos Saint-Louis has rooms starting at $220 for Saturday night or $205 for Sunday night. To check availability and rates Click Here .
The Best Western City Centre Quebec has a Traditional Room with 2 queen beds at the internet-only rate of $212.49 per night for October 9 or a Business Class Room with a King Bed can be had for $127.49 on the night of October 10. Both of these rooms were available at a lower rate with a 7 day advance purchase. To check availability and rates Click Here .
And finally, at Hotel PUR a PUR King room was found for $179 for the night of Oct 9 and $149 for the night of Oct 10. To check availability and rates Click Here .
There were several other hotels in Quebec City with vacancies for Thanksgiving, particularly for Friday or Sunday nights, and for more options, please visit the Old Quebec City Hotel or Quebec City Downtown Hotel sections of our website.
*The above rates are subject to applicable taxes, subject to availability, subject to change without notice and are generally based on 2 people sharing a room. To check current availability and rates, and for reservations, please contact your Quebec City hotel directly.
Housed in a Victorian mansion close to the Chateau Frontenac in Old Quebec, Le Continental has been serving expertly prepared Italian and French cuisine since 1956. The dining room is elegant and the food spectacular, with mouth watering delicacies such as Duck Foie Gras, or Seared Scallops as appetizers, Noisettes of Veal Wrapped with Prosciutto and Reblochon Cheese, or Heart of Fillet Mignon with Chanterelles as a main course, plus a decadent dessert menu. A true food lovers delight in Vieux Quebec.
For more information visit www.restaurantlecontinental.com.
The most famous of all Quebec City hotels dominates the skyline of Old Quebec, and its image is a central feature of most photos of the city. The breathtaking building is no less impressive on the inside, where guest rooms are beautifully appointed to a standard Fairmont users will be accustomed to. In addition to the Fairmont Room, Deluxe Old Quebec Room, Deluxe River View Room, and Signature Room, there is also a variety of suites available. For the ultimate in luxury accommodation, Fairmont Gold Rooms and Suites are an excellent choice. There are several first class dining options and the terrace of the St-Laurent Bar & Lounge is a wonderful place to take in the views of the St Lawrence River while sipping a Martini. Other amenities include an indoor pool, spa and health club.
For more information and photos Click Here
Tel: 1 866 540 4460
1, Rue Des Carrieres
Quebec City, Quebec, Canada