Quebec Winter Carnival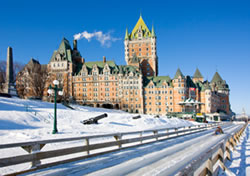 A popular tradition in Quebec City for over 100 years, the Quebec City Winter Carnival takes place from January 30 to February 15 2015. Despite freezing temperatures, visitors flock in their thousands to view the ice palace, canoe race, night parade, snow sculptures, and to take part in dog sled rides, sleigh rides, ice skating and basically all things that encompass winter in Quebec. It's the largest winter carnival in the world and well worth attending!
Quebec Winter Carnival Hotel Packages
Many hotels in Quebec City are offering attractive room only deals throughout the 2015 winter festival.
To view rates and availability for several accommodations at one time, click here and enter your dates of travel.
Several Quebec City hotels are offering special packages throughout the 2015 Winter Carnival, some of which we have featured below.
Best Western Plus City Centre will have a 1 night deal for the Quebec Winter Carnival which includes accommodation, breakfast, and one Carnival effigie with rates from $135.99 per person.
The Hilton Quebec is offering a Quebec Winter Carnival package which includes a room with a view, buffet breakfast, valet parking, 2 Winter Carnival passes plus a souvenir.
Hotel des Coutellier is offering a Carnaval special which includes a room for one night with breakfast delivered the next morning, plus one effigy per person. Rates start at $164.
Quebec City's most iconic luxury hotel, the Fairmont Chateau Frontenac is featuring a Winter Carnival Package which includes one night's hotel accommodations in a Fairmont Room, plus a Winter Carnival 'Effigy' for entrance to the special carnival events. Rates start at $229 per night, and the winter carnival hotel package is valid from January 30 to February 15 2015.
Hotel Chateau Laurier has a special deal for the festival which includes a hotel room for two nights, valet parking, buffet breakfast, two carnival passes and an official program.
Quebec City Winter Carnival Events
Throughout the 2015 Winter Carnival there will be a whole host of exciting events and activities taking place, with guaranteed fun for all ages.
Bonhomme Carnaval is the famous mascot of the Quebec City winter festival, and at the Loto-Québec Zone in front of the Parliament Building you will find Bonhomme's Ice Palace. Bonhomme's Winterland on the Plains of Abraham is one of the main Carnival venues where you can see dog sledding, ice slides, snow sculpture competitions, Arctic Spa Village, giant table soccer, sugar shack, outdoor BBQ, and sleigh rides. And if you want to go sliding on inner tubes, just make your way to Espace Hydro-Québec.
Some of the main activities take place at the weekends, and on Friday January 30 you won't want to miss the spectacular show for the official opening of the Carnaval. Following that on Saturday January 31 there will be an opportunity to meet Bonhomme himself, take part in a kart race, hockey tournament, learn to snowboard (5-8 year olds) or admire snow sculptures, followed by a live DJ and dancing in the snow! Sunday February 1 sees many of the same activities, so why not pay a visit to the Arctic Spas Village where you can take a hot dip, or warm up at the Soup Shack, or even have a go at bumper cars on ice!
On the evening of Friday February 6 you can enjoy a performance by the children's choir, La Maîtrise, as well as other artists at the Capitole de Québec, or take in the Blues Night at the Pub St-Alexandre. On the morning of Saturday February 7 there will be a pancake breakfast Calgary Stampede style, or you can enjoy a whole host of family fun from 4-8pm at Faubourg St-Jean. That evening sees a special Night Parade in the Arrondissement de Charlesbourg as well as Nuit Boreale celebrations at Palais Montcalm. Both Saturday and Sunday are perfect opportunities to try some of Quebec's best cuisine at the Espace Terroir where local chefs will offer gourmet delights on the banks of the St Lawrence River. The afternoon of Sunday February 8 sees the canoe race finals round out the second weekend of the festival.
Launching the last weekend of the Carnaval will be the SAQ Queen's Ball on the evening of Friday February 13, and the Quebec Symphony Orchestra will also be performing the same evening. During the morning of February 14 you can have souvenir pictures with Bonhomme and in the afternoon be entertained by the brave participants in the Qualinet Snow Bath. A second Carnival parade takes place that evening in the Upper Town, followed by a post parade DJ Party. Sunday February 15 will be the last day of the Quebec City Winter Carnival 2015, and the day starts with Bonhomme's Brunch in the morning, with the closing ceremony taking place at 3.30pm.
For more information visit the official Carnaval de Quebec website at www.carnaval.qc.ca.